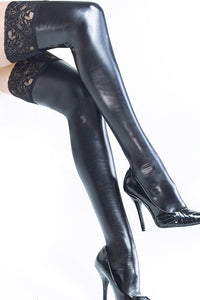 Down Home Lovin'
Lace Top Wetlook Stockings - "Queen Size"
Regular price
$45.00
$0.00
Unit price
per
These wetlook stockings turn any outfit into THAT OUTFIT. The one that makes you walk, talk and anything else you might get yourself up to all that much more intensely because hello, you're wearing powerful stuff. I also have to attest to how DURABLE these suckers are! I'm brutally rough on stockings and most don't last a week but these are still going strong after many wears and gentle handwashing and no heat dry sessions!
Silicone bands inside the lace tops helps keep them in place without the need of garters but they can be worn with them too if you prefer.
The package says "OSXL" but as long as your thighs are 16" or larger they should fit, although I don't really recommend them for thighs much thicker than 26" - however you could just wear them a little lower than pictured and they should still work!
---